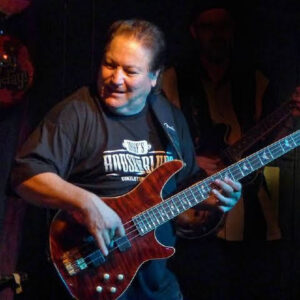 Andy has been a very important part of the Phoenix music scene for over 50 years.
Andy was born in Phoenix in 1952 and he has established himself as one of finest bass and guitar players, bandleaders and record producers on the Phoenix music scene.
Some of his most popular bands through the years include: Memphis Soul, La Raza and Barrio Latino.
One of his most notable jobs was bandleader for ABHOF Inductee Francine Reed, from 1980 to 1990. He is still working with Francine once in a while.
Andy has traveled all over the world doing tours with Jennifer Bone. He played with ABHOF inductee Chuck Hall, on tours through Scandinavia. Among the many projects he is currently involved with, he plays with The Hans Olson (ABHOF inductee) Band. He has also played with ABHOF inductees Stan Devereux, Big Pete Pearson, George Bowman and countless others. He backed up the great Earl King in the 80's.
Also in the 80's, he was in the house band at the legendary Century Sky Room, backing all the legends of the Phoenix Blues R&B and Jazz scene on the famous "Blue Mondays" jam for two years.
He played at the Phuket (Thailand) Blues and Jazz Festival with Charlie Musselwhite.
Andy has produced several recording projects recently for Big Pete Pearson, Hans Olson, Francine Reed and many others.
Andy Gonzales is truly a legendary figure on the Arizona Music scene.