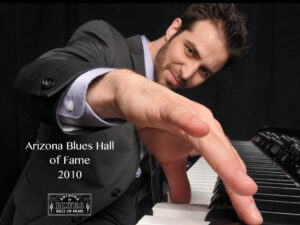 Arthur Migliazza
Blues and boogie-woogie piano player Arthur Migliazza was born in Hyattsville, Maryland in 1980. He began taking classical piano lessons at age nine, mainly due to the prompting of some family friends who, noticing his tendency to play any piano that happened to be in reach, suggested that his mother get him started with lessons. Frustrated with the confines of classical music, but clearly gifted at the keyboard, Arthur soon found himself under the tutelage of Judy Luis-Watson, a local blues piano player and teacher. It was at this point that Arthur's true potential began to show. Arthur was immediately drawn to the soul in blues music and began listening to blues piano greats such as Otis Spann, Champion Jack Dupree, Jimmy Yancey, Professor Longhair, Jay McShann, Katie Webster, and many more. Their influences can be heard in his playing today.
In 1991, Arthur and his family moved to Tucson, AZ. Inspired by his immense talent, blues piano luminaries such as Ann Rabson (from Saffire – the Uppity Blues Women), Mr. B, and the great New Orleans keyboard master Henry Butler have all taken Arthur under their collective wing and given him lessons. By the time he was in high school, Arthur was already fronting his own band, a piano-drums duo called The Blues Kats, making solo appearances nation wide, and playing clubs all over the Tucson area. Arthur has also played with prominent Tucson artists including George Howard, Tom Walbank, Julie Anne, Joe Bourne, Lazy Ed & the Strat-o-loungers (w/Ed Friedland), and the 17th Street Band (w/Harvey Brooks). In 2005, Arthur was awarded the Tucson Area Music Award (TAMMIES) for Best Keyboardist and in 2010 he was inducted into the Arizona Blues Hall of Fame.
During the past several years, Arthur has been featured on the Cincinnati Blues Fest's Arches Piano Stage multiple times, and has taught blues piano at August Blues Week in Elkins, WV, and at Centrum in Port Townsend, WA. Arthur has traveled regularly to Hiroshima, Japan to play at the former Soho jazz club, and has completed a short tour of Holland and Italy. In 2004, he released his debut self-titled solo album, and his second, entitled PUMPING IVORIES in 2006.
In 2000 Arthur teamed up with Blues Harmonica virtuoso Tom Walbank and together they released an album of songs in 2009 entitled BURN YOUR BRIDGES. In January 2010 the duo were finalists at the International Blues Challenge held in Memphis, TN. 2010 also saw the release of an EP entitled CLAMDIGGERS, featuring Arthur on piano and keyboards, Mike Levy on bass and Alejandro Canelos on drums. Arthur currently resides in New York City.