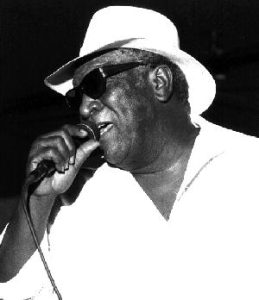 big pete pearson
Big Pete (Lewis Paul Pearson) has been such an important figure on the Phoenix Blues scene for so long that it's hard to imagine that he has not, in fact, lived here all his life.
Born in 1936 in Jamaica, Pete was still a child when his family moved to a small town outside of Austin, Texas. His religious upbringing introduced him to gospel music, but eventually he heeded the call of the blues. Pete got his start playing bass and singing with Henry "Blues Boy" Hubbard and the Jets. Along the way, he served as mentor to a young W.C. Clark, now a Black Top artist who is widely regarded as a patriarch of the Austin scene. Pete came to Phoenix in the early sixties. His first gigs here were with the late great Duke Draper, a fine singer and keyboardist in his own right. Pete's next musical move was to join Jimmy Knight and His Knights of Rhythm.
During the late 1970's, Pete served as the original vocalist for Drivin' Wheel. Since then, Pete has pretty much fronted his own groups, and the list of graduates from his school of bluesology reads like a Who's Who of respected musicians. Pete's latest version of the Blues Sevilles consisted of Moe Denham on vocals and keyboards, guitarist Kirk Hawley, bassist Kati Ingino and drummer Alvieto Robinson.
In 1998, Pete announced his retirement from performing. He says he is moving to Maine because they "have great fishing there…" Pete's last performance in Phoenix was May 9, 1998. The Blues Sevilles plan on continuing as a band. Phoenix will always remember Big Pete Pearson as one of the best reasons to go out to a night club and hear some great blues. He will be missed.