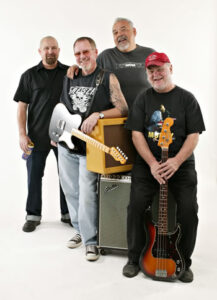 John "Big Nick" Samora has been playing in Phoenix for the last 20 years. He is the lead singer and harmonica player in his band, Big Nick and the Gila Monsters. They are one of the finest Blues bands in Arizona, and have been together for the past 16 years.
Mike "El Rey" Lewis is the guitar player and he is considered one of the finest players in Phoenix, having cut his teeth with Chuck Berry in the late '60's after starting Phoenix Area Blues bands in their High School days with James Mason.
A Phoenix treasure, Bass player James "Muddy" Mason has been the cornerstone of dozens of landmark acts in the Phoenix area since the mid '60s.
Together since 1994, the stability of this group has been one of it's hallmarks. Bobby Whiteshoes, the founding drummer, passed the sticks to Pro drummer, Ricky J. Lockhart, after retiring in 2004. Ricky has picked up the torch, laying down the solid grooves this great Blues band is known for.
With 5 self produced CDs under their own label, Monster-Tone Records, these guys are the real deal.
James Mason passed away in 2011 at the age of 61.
Bobby Whiteshoes passed away in 2017