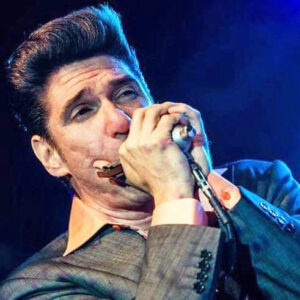 Bob Corritore
Bob Corritore wears many hats within the blues community. Bob hosts a weekly blues radio program on KJZZ. He books all the entertainment at the Rhythm Room (Phoenix's top spot for presenting national touring blues talent). He has produced a number of now historic blues recording sessions and he is a world class blues harmonica player who has worked with many of the legendary greats.
Born in Chicago on September 27, 1956, Bob heard Muddy Waters on the radio at age 12. This experience would permanently change his life. Bob started collecting blues albums, playing blues harmonica and regularly seeing live blues concerts. He befriended many of Chicago's great bluesmen, and once of age, would perform regularly at many of Chicago's blues clubs.
At age 21, Bob started a record label called "Blues over Blues" and produced sessions by obscure harp masters, Big Leon Brooks and Little Willie Anderson. These sessions featured the cream of the Chicago Blues players such as Robert Jr. Lockwood, Fred Below, Eddie Taylor, Pinetop Perkins, Big Moose Walker, etc.
In 1981, Bob relocated to Phoenix. He soon persuaded Louisiana Red to move to Phoenix to form a band and do some recording. Bob produced "Sittin' Here Wonderin'", by Red, which took until 1996 to come out on the Earwig label and subsequently was nominated for a W.C. Handy award.
Bob has performed over the years in many top Phoenix blues bands including, Big Pete Pearson and the Detroit Blues Band, Chico Chism and the Chiztones and Buddy Reed and the Rip It Ups. Bob also was a part of many pick-up ensembles used to back touring musicians coming through Arizona without a band. Some of these musicians were legendary and include Willie Dixon, Bo Diddley, Lowell Fulson, Otis Rush, Jimmy Rogers, Robert Jr. Lockwood and others.
Bob has produced live recording sessions at the Rhythm Room by R.L. Burnside, Sonny Rhodes, Chico Chism, and Henry Gray. He had a hand in compiling the "Low Blows" Chicago Harmonica Anthology and the "Blue Saguaro" Arizona Blues compilation.