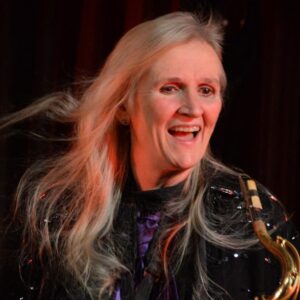 "Hurricane" Carla Brownlee
Tenor/ baritone saxist and vocalist Carla Brownlee spent the 80s based in New York City. She toured nationally with Jonathan Richman and the Modern Lovers, and in the U.S. and Europe with the Dan Hartman "I Can Dream About You" tour. Television appearances with Hartman included Soul Train, Solid Gold, American Bandstand and the David Letterman Show.
Brownlee also made guest appearances with popular jazz and pop bands including The Violent Femmes, The Ben Vaughn Combo, The Skeletons, The Morels, The Del Lords, Syd Straw, and John Sex.
Since moving to Tucson in 1993, she's been a member of Tony and the Torpedoes, The Kings of Pleasure, Lisa Otey Band and The Carnivaleros.
In November 97, Brownlee joined blues shouter Nappy Brown for a series of Eastern European blues festivals, and in 2001 she played and sang with Lisa Otey at the Cognac Blues Festival in Paris, France. She currently performs locally and on tour with the Lisa Otey Band
In addition to performance, Carla also is a songwriter and playwright, with several stage productions to her credit. Her imaginative musicals tend to include R&B circa mid-1950s. A 1998 play was a tongue-in-cheek look at Elvis Presley returning for a week as an adult to his old high school, in the end (and with the help of the cast and audience members) saving it's Homecoming celebration from the chokehold of boorish chaperones.