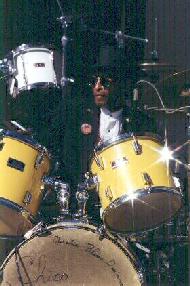 chico chism
CHICO CHISM is an Arizona Blues Ambassador. He is known all over the state as one of the most unique and memorable Blues stars to ever call Arizona home. Chico is best known for his work with Chester Burnett, the famous "Howlin' Wolf". Chico played drums with the Howlin' Wolf during the middle 1970's. When the Howlin' Wolf passed away, he continued playing with the band known as "Eddie Shaw and the Wolf Gang". He was band leader for Roscoe Gordon for two years. During Chico's time in the Blues clubs of Chicago, he played with many great Blues artists including: Eddie Boyd, Sunnyland Slim, Sonny Boy Williamson, Willie Mabon, Muddy Waters, Big Joe Turner, Memphis Slim and many more. Chico's drumming was included on a vast number of studio sessions on several major Chicago Blues labels. He toured on the road throughout the United States and Europe with such people as: Otis Rush, T-Bone Walker, Freddy King, Lowell Fulsom and Junior Wells. In 1987, after an extended time of playing in Europe, Chico moved to Phoenix, Arizona. That same year, the weekly news/arts/entertainment newspaper, THE NEW TIMES, named Chico's band the "Best Blues Band" in their yearly "Best of Phoenix" issue.
Chico Chism passed away on January 28, 2007 at the age of 79 in Phoenix, Arizona.
Chico Chism was inducted into the Arizona Music and Entertainment Hall of Fame (AMEHOF) on February 13, 2011 at the Orpheum Theater in Phoenix, AZ. Click on the following link to view the AMEHOF Inductee introduction video for Chico.