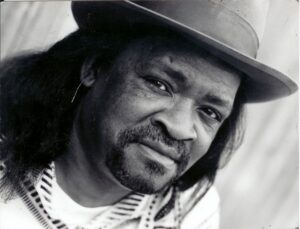 Dave Riley born March 18, 1949 in Hattiesburg, Mississippi second born of 10 children. Dave learned music at a young age. By the age of nine he was playing for his parents (Willie and Maggie) family gospel group The Riley singers. In 1961 his family moved to Chicago where he fell in love with music playing gospel on Sunday mornings and blues at night.
Dave caught the eye of several independent record labels around town and became a studio music playing for a lot of local acts. Dave was drafted into the army where he was stationed in Seattle Washington. He attended a show that featured local guitarist Jimi Hendrix, who became a major influence on his life.
Upon the end of his tour of duty in Vietnam. Dave came home and pick up where he left off playing around town sitting in with the likes of Muddy Waters, Eddie Shaw, Junior Wells, Howlin' Wolf, and Buddy Guy. It wasn't until Dave in the early 1990s, Dave returned back to his roots in the Delta. where his name began to shine. Hooking up with Sam Carr, Frank Frost and Big Jack Johnson. After touring around the globe with the Jelly Roll Kings, Dave formed his own band in 1996, and has been picking and singing non-stop ever sense. In 2000 and 2001 Riley released three albums, his first CD, Living on Borrowed Time, followed by Blues Across America-The Helena Scene, and Whiskey, Money, and Women.
In 2005 Riley came to Phoenix for a visit and decided it would be a good place to live. Since then, Riley has performed at the Rhythm Room, Pranksters Too, the Boondocks Lounge, the Peoria Municipal Complex, the Glendale Jazz & Blues Festival, the Mesa Arts Center, the Blues Blast at Margaret T. Hance Park, the Plaza Palomino Court Yard, the Live at the Library, the Bisbee Blues Festival, the Tucson High Magnet School (Tucson Spring Jam), Monterey Court, plus touring in the USA, Europe and South America.
From 2007 to 2011, Riley released three critically acclaimed albums with Arizona harmonicist Bob Corritore; Travelin' the Dirt Road, Lucky to be Living, and Hush Your Fuss!.