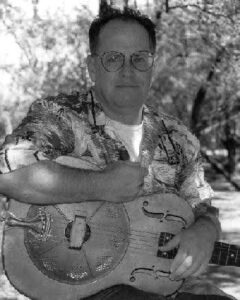 Denis Offret
Inducted in Oct 2000
Born May 20, 1956, Denis J. Offret was one of Arizona's most accomplished solo acoustic guitarist/singers and teachers. The distinctive fingerpicking style the Tucson native called cactus-picking was a mixture of influences from traditional Delta and Piedmont blues to ragtime.
Denis appeared at many regional US festivals and toured Europe extensively, living there for two years. He also taught music and ethnomusicology to developmentally disabled and learning-impaired students. He was a deep believer in serious study if one is to work within one tradition or many. Rural blues grabbed Denis s attention when he was in high school.
Through rock n roll I heard Jorma Kaukonen and others, he said in a 1996 interview. I heard the first Hot Tuna album and that was a big influence. I d look on albums like that and I d notice the songwriters like Blind Blake and Rev. Gary Davis. I d figure & I ve got to find out about the guys who wrote this stuff. & I wanted to know why, growing up in Tucson, I was attracted to this strange, Southern music.
He traveled to the Tennessee and Mississippi blues meccas, soaked up the music, heard the players experiences, got addicted to more than the music, got clean again without blaming it, and played on, all over California and Texas.
His learning approach was necessary to be sound in the tradition, Denis said. You have to learn all that stuff. Then you have to forget about it to find your own voice within the blues. It s a very difficult thing to do. It takes years. Part of that comes out of your knowledge, and the rest comes out of your heart, mind and soul.
Today s Tucson blues scene developed from a group of musicians here in the early 80s and Denis was one of them, opening for artists such as John Hammond Jr., Albert Collins, Son Seals and John Lee Hooker.
I ve been so many places and been so many people, he said four years ago, that now I see the guitar as the single thread that has run through my whole life. That s a source of great, unending happiness and fulfillment, that you could point at something that s just run so true throughout your life.
In the weeks before his sudden death from heart failure, he was preparing his students for a special course in the music of Charley Patton and Robert Johnson.
Denis died Nov. 19, 1999. He was 43.