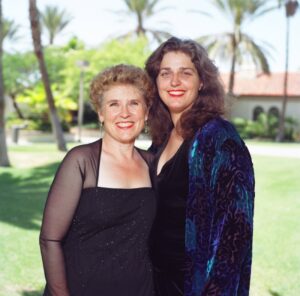 International touring artists Diane Van Deurzen & Lisa Otey are a dynamic duo, a perfect blend of sultry blues, hot jazz and boogie-woogie. They take their act to festivals, clubs and theatres around the world and are known for creating an atmosphere of intimacy with their humorous and joyful interactions with their audience.
Blues singer Diane Van Deurzen worked with various bands in her home state of Wisconsin before moving to Tucson in the mid-90s. She has been inspired by Bessie Smith, Alberta Hunter and Etta James. Her vocal style has a sweet and earthy quality mixed with a sultriness that connects with her audience.
Lisa has been inducted into the Tucson Music Hall of Fame and Arizona Blues Hall of Fame and appeared on the Grammy-nominated CD, "Ladies Man" with Pinetop Perkins.
When Diane & Lisa joined forces in Tucson in 2004, they found a common love for double entendre lyrics and classic, bawdy blues. This led them to their first duo project, "Wild Women," a celebration of 100 years of blues women. They co-produced 5 more CDs, receiving airplay around the world.
Diane & Lisa have performed at the Thredbo Blues Festival in Australia; Yardbird Suite in Alberta; Waterfront Blues Festival in Oregon; Blues in Bisbee in Arizona; Silver City Blues Festival in New Mexico; Yoshi's in California; and venues all over the US, Spain, France, Belgium, the Netherlands, Italy, and Switzerland. Diane is also a member of Lisa Otey and the Desert Divas.