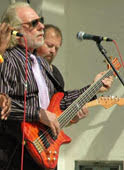 Don taught himself to play Bass by playing with records by Jimmy Reed, John Lee Hooker, Freddie King & other Blues artists on a de-tuned Harmony acoustic guitar at age 18. While serving in the USAF at Lowry AFB, Colorado in 1963, he got his first stage experience with a barracks band that had a weekend gig in Central City, Colorado.
Reassigned to Bergstrom AFB in Austin TX, he helped form The Babycakes, the first band in Austin with any long haired members. This band won the first Austin Aqua Festival Battle of the Bands. After discharge in 1966 he played with many bands in Austin including The Georgetown Medical Band which included Gary P. Nunn at one time.
He played with Tim Picard & the Notes, the house band at Austin's Hideaway Club. He met Freddie King while with Tim Picard's band and backed him up many times at the Hideaway Club and later at the Vulcan Gas Company in Austin.
His last Austin band was James Polk & the Brothers, a 12-piece Soul, R&B & Blues band which included guitarist John X. Reed and Angela Strehli. His last performance with this band was opening for James Brown at the Austin Community Center.
Don moved to Tucson in 1971. His first Tucson band was Ethyl, a band that at various times included Marx Loeb, Craig Siegel, Joe Martinez, John Ronstadt, Gary Love and Paul Simons. Other Tucson bands included Fast Eddie & the Rodeo Kings, Valley Fever, Los Lasers, the Statesboro Blues Band (later including Sam Taylor), and Woody & the G-Men. While playing with the King Bees, the band entered and won the local International Blues Competition and competed in the Memphis finals in 2007. He last played with the Coolers, a 9-piece band featuring 5 horns from its formation in early 2007 until March 2012.
OTHER MUSICAL ENDEAVORS
After the Charles Whitman shooting tragedy at the University of Texas campus, he helped produce a benefit concert for victims at the Austin Community Center. While playing with the Babycakes he co-produced and opened for a Lovin' Spoonful concert in Corpus Christi TX. He backed (alone) Big Joe Williams on a small tour in south Texas. With drummer T. J. McFarland from Austin he backed Chuck Berry at the Too High Club in Tucson.
He played the Southern Arizona Blues Society Festival with the Statesboro Blues Band, the King Bees and the Coolers. He played the Bisbee Blues Fest 2009 with the King Bees, with Tommy Castro headlining. He played the opening night dance at the Silver City Blues Fest with the Coolers.