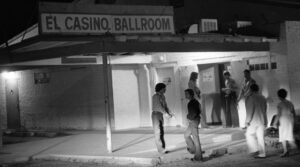 "In the '40s, this was basically the community center for the Hispanic culture," says Fred Martinez, manager of El Casino Ballroom. "In the '50s, this is where the road shows used to come through–Benny Goodman, Fats Domino, you name it. It was the only place that could hold (more than) 1,000 people."
In 1970, the Latin American Social Club purchased the ballroom. Two years later, the building was expanded. In the mid-'80s, El Casino hosted KXCI and KLPX dances and concerts.
"I saw everything from hard rock to reggae to blues. Los Lobos played here on a Tuesday and Wednesday night to sold-out crowds. There was a packed crowd of 1,200 to 1,300," says Martinez.
But that all ended on a stormy night.
The year was 1991. Rain and wind raged on an October evening. The storm racked havoc on the ballroom. Part of the roof blew off. El Casino closed. The music died.
The year was 2001. After whispered rumors about its fate, the ballroom rose up from the ashes. Its doors opened for business in February. By April, it was hosting Buckwheat Zydeco.
El Casino is back.