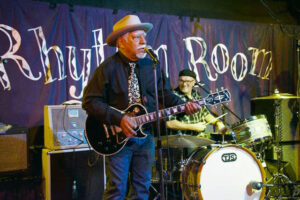 Born: Austin Texas, 1947
Dallas Buddy Magazine, 1981, voted Freddie into it's list of "Texas Tornados."
Guitar World Magazine, Sept, 1988. Stevie Ray Vaughan feature article.
Freddie was included in a list of Stevie's favorite guitar players Guitar Player Magazine, March 1989. Freddie was featured in an article titled "Unknown Greats."
Freddie has performed on stage with Delbert McClinton, Stevie Ray Vaughan, Kim Wilson, Doyle Bramhall, Lou Ann Barton, Keith Furguson, Room Full of Blues, Alan Haynes, T-Bone Burnett, Lightning Hopkins, Ray Sharpe, Uncle John Turner, Joe Houston, Big Daddy D, R.D.Olsen, Anson Funderburg, Jimmy Vaughan, Bruce Channel, Sue Foley, Darrell Nulisch, Cornell Dupree, Steve Burton, Wayne Bennett and more.
Recorded with The Five Carless Lovers "Live at the New Bluebird Night Club" 1972 (Album produced by T-Bone Burnett). "Meat and the Cold Cuts" on the Black Top label around 1983.
Moved to Prescott, Arizona 1993, Played in various bands.
Freddie opened a guitar repair shop "Mercy Guitar Hospital" in 2005. He is still in the repair business. He is a Gold Certified Tech for Fender and a Certified Repair Center for Martin Guitar Company. He has judged for the Phoenix Blues Society "Blues Show Down". Judged for "Northern Arizona Blues Alliance" IBC competition.