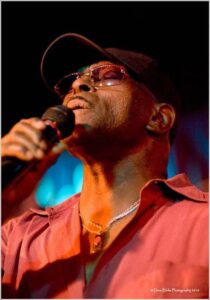 George Bowman
George was born in Mississippi. Although he sang in the church choir, music became important in his life only after his family relocated to Phoenix in the mid 1960's.
Dyke of Dyke & The Blazers managed the apartment complex the Bowmans lived in. Thus, George met Dyke and the band close up. That experience left him in awe and inspired him to become a professional singer. He befriended singer Rochelle Whitehead and drummer Delmar Stewart in the late 60's and formed a show band "Memphis Soul" which enjoyed great popularity for years.
George continued as lead singer with various bands including: "Soul on Ice" (mid to late 70's), "Pyramid" (early 80's), "Nitekap" (mid 80's) "Spectrum" (early 90's) In the mid to late 90's he performed and toured with Lucious Parr's band "Street Life."
In 1999 George won the Arizona Blues Showdown.
In recent years he has mainly focused on song writing and released 'Badd Boy' (2002) and 'Hoochie Coochie' (2004) which are selling well overseas.
He has opened for many acts such as Charles Brown, Sweetwater, Taj Mahal, Dr. Hook, Buddy Miles and many more.
George continues to do occasional showcases featuring some of Phoenix' best musicians and R&B artists.