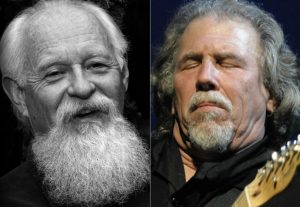 So, over 100 years of combined professional musical experience says a couple things about Steve Grams and Danny Krieger. (1) They're old — despite their youthful appearance–, and (2) they can do it all. Don't try and label these guys, let's just say these singer/songwriters play Roots Music and leave it at that.
Danny Krieger is one of the Southwest's most respected guitarists/slide guitarists. His musical resume includes world-wide tours with British pop band 'Christy' in the early '70s and numerous recording sessions with a variety of artists ranging from Exene Cervenka to the late Andy Gibb. He's also worked with Big Joe Turner, Coco Montoya, Johnny Rivers, and Smokey Wilson & Eric Burdon. Originally from LA, Danny has also toured with Debbie Davies, Sam Taylor, 'The Mollys', Holland's Mr. Boogie Woogie, and John "Juke" Logan. Danny also won a Tucson Area Music Award (TAMMY) for guitar in 2000 and is a member of the Arizona Blues Hall of Fame. Lest we forget, Danny was the child singer in the "Oh, I wish I was an Oscar Meyer weiner….." commercial! Don't believe it? Go to www.youtube.com and check it out!
Steve Grams, who cut his bass teeth in Sioux City, Iowa, and at the University of North Dakota in the mid-to-late '60s, and later in Minneapolis , MN ("Grizzly", "Goldstreet") has been in Tucson since 1979 and built a reputation as one of the area's most reliable acoustic and electric bassists, touring the USA, Europe, and Canada extensively. During that time he has played on and/or produced over 100 LPs and CDs, and been selected bass player of the year for the Tucson Area Music Award (TAMMY) in 1998 and 2005. He is also a member of the Arizona Blues Hall of Fame, the Iowa Rock and Roll Music Association's Hall of Fame, and in the initial induction group of the Tucson Musicians Museum. His list of sideman credits includes working with Teddy Morgan, 'the Hacienda Brothers', Dave Gonzalez and 'the Stone River Boys', Nappy Brown, Candye Kane, Johnny Rawls, tenor sax monster Terry Hanck, Smokin' Joe Kubek and Bnois King, Andrew "Jr. Boy" Jones, Bo Diddley, Long John Hunter, R.J. Mischo, Freddie Roulette, Holland's Mr. Boogie Woogie, and French singer/songwriter Alexandra Roos.
The duo completed their sixth CD, "THE BEST?", which was released internationally on November 1, 2014. Go below to purchase. "THE BEST?" has 18 tracks of original music and the boys have re-recorded seven of their classics for this release. Other CDs include "The Fluffingtons" from 2000, "Two Days" from 2001 (out of print), "That's the Way We Work" from 2003 (out of print), "No You" from 2006, and "5" from 2012. In2017, after the original order of "5" sold out , Danny & Steve went back in the studio and re-recorded "Clap Hands" with RALPH GILMORE on drums and added harmonies to "Righteous" and re-released the CD as "The New and Improved 5!".