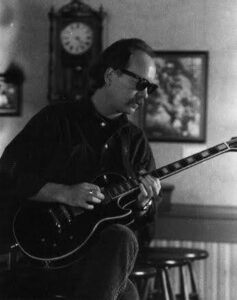 With a bag of tricks in his pocket, Hank Tomlin bends, trills, slides, and grooves as he deftly exhibits the unique guitar style that he brings to Northern Arizona, accompanied by the deep resonant voice of his birthright. Henry Nathan Tomlin III was born December 20th,1953 in Norfolk, Virginia. Even before he was born, music played a key role in his life. His mother worked as a DJ at the Norfolk Naval radio station and she loved to tell Hank the story of how, while still pregnant with him, she would hobble to the station to play Elvis Presley records. Hank's father, an oboist, was the youngest member of the Norfolk Symphony. From this background Hank would develop a deep appreciation for and love of music. As a young boy Hank's favorite pastime was to harmonize along with the Beatles. By age fifteen after only a few months lessons on the guitar, Hank and his school buddies formed a band. They played all the school functions, at the local YMCA, and at the various military bases, becoming very well known all through Norfolk.
One of the songs Hank's young band covered was "TheThrill is Gone". Hank never played that song quite the same again after his mother took him to the Hampton Jazz Festival in 1971, where he got his first glimpse of the legendary B.B. King. Soon after Hank was introduced to the music of the Allman Brothers Band. "Duane Allman floored me", Hank recalls. Other influences in those formative years included Eric Clapton, Jimi Hendrix, and Delbert McClinton, and later Jimmie Vaughan and his little brother Stevie Ray.
By the late 1970's Hank found himself in a traveling band touring the Southeast. He learned many valuable lessons at this time. In 1980 he played with Jerry Lee Lewis in Greenville, Mississippi. Hank still remembers Jerry's words to him after the show; "Keep on Rockin Killer!", And that, Hank did. In 1985 Hank had based himself in Flagstaff, Arizona and became part of the "Monday Night Blues Band" with fellow players S.E. Willis and Tommy Dukes. In the mid 90's Hank spent several years in Austin, Texas where he picked up that Texan guitar influence well known to his fans. Hank has played with Albert King, saxophonist Joe Houston, Muddy Water's Legendary Blues Band, and Anson Funderberg and the Rockets with Sam Meyers. Upon Hank's return to Arizona, he has played in the bands, Big Nick and the Gila Monsters and the Shake. Though Hank's influences continue to grow, he is still firmly rooted in the Blues. Currently Hank is playing under his own name in the Hank Tomlin Band. In March of 1999 the band recorded and released the CD "Arms Around My Rose", based on material Hank composed during the passing of his mother. Writing those songs became Hanks peace and solitude as apparent in the albums heartfelt and honest lyrics. Recently one of Hank's fans came up to him during a gig and said "did you come to play tonight or what!","I always come to play", Hank replied. Hank Tomlin is honored to be a member of the Arizona Blues Hall of Fame.