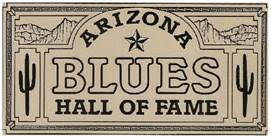 james robertson
James was born and raised in southern Idaho, which makes his love of the blues a bit of a mystery, but he certainly heard the music calling him and answered with a bottleneck slide and electric guitar. He moved to Phoenix in 1992 where he began attending shows and jam nights. By the mid 1990s his unique, "over the top" slide guitar style landed him his nickname, "Sweetfinger", and a spot playing for Jake De Snake & The Blues Constrictors.
James finished out that decade with Bent Blue, then continued through the 2000s and forward playing for the Delrayz, RD Olson, Two Flavor Blues, Sistahs Too, and Walkin Cane Mark.
Highlights from the last 25 years include opening for Storyville, "Big" Doyle Bramhall, Lee Oskar, The North Mississippi Allstars, and representing Arizona twice in the International Blues Challenge, the first time with RD Olson in 2015 and more recently in 2017 with Sistahs Too.
James' playing style echoes his early slide influences like Elmore James, Hound Dog Taylor, and Mike Henderson, as well as primarily non-slide players like Jimmie Vaughan, Kid Ramos, BB King, and Nick Curran. He continues to draw inspiration from all types of blues players both active and long passed, including all the great Arizona musicians he has been fortunate to hear and in many cases, share the stage with.
He currently backs up Big Pete Pearson, plays in the Jamie Waldron Trio, and has a band, True Flavor Blues, featuring Scotty Spenner.