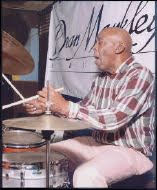 Jerome was born on August 13, 1948.
Jerome's career as a drummer started when he was just 16, playing drums for Wilson Pickett. He is probably best remembered for joining Jr. Walker and the All Stars in the late 60s.
He performed on many of the All-star's hit including:Peace & Understanding Is Hard To Find,Home Cooking,Whiskey a Go Go Live,Hip City Pt. 2,What Does It Take (To Win Your Love?)and many more.
He moved to Phoenix from Detroit, MI in the '80s. After arriving in Phoenix, he performed with ABHOF Inductees Bob Corritore and Janiva Magness in the bandThe Mojomatics.

Jerome was the drummer on Al Green's debut album,Back Up Train. He worked with Ike and Tina Turner, Smokey Robinson, Bill Carr and jazzman Sonny Stitt. He also recorded with Jimi Hendrix.
In 1993 Jerome was inducted into the Motown Hall of Fame.
Jerome Teasley died on June 16, 2016 in a hospital in Phoenix, Arizona. He was 67.