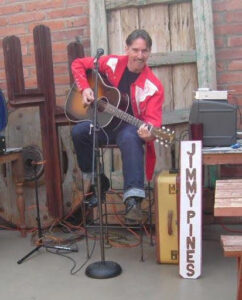 Jim Dorholt
Jim moved to Phoenix in 1984.
He has played drums with many bands over the years including: Murphy's law (1984-85), Colin Winski & The Rock-a-billy Rebels (1986-87), The Varmits (1987), Johnny Williams (1988), The Hoo Doo Kings (1989-96), Trio Grande (with Bruce Hamblin and Mario Moreno -1996-97), The Hoo Doo Kings (1997-2001) and is now playing with The Rocket 88's (drums & vocals).
Other side projects include playing with The Rhythm Room All-Stars, Jimmy Pines and Mario Moreno and the Ramblers
Jim has backed up and/or recorded with: Henry Gray, Roy Gaines, Lazy Lester, Joe Houston, Johnny Dyer, Carey Bell, Juke Logan, Kid Ramos, Paul Burlison, Ray Kampi, Sonny Burgess, Don Walser, Charlie Ryan, Al Casey and Link Wray.
Jim is one of Phoenix's best Blues drummers and a fixture on the Blues scene.
Jim is currently performing as a solo act under the name "Jimmy Pines"