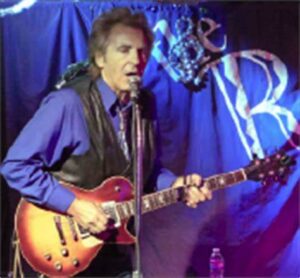 Jim Glass
Jim Glass was born in Winnipeg, Manitoba, but his family moved to Edmonton and eventually to San Francisco in 1967 where he started playing the blues after hearing Albert King, Wes Montgomery, Sam and Dave, Booker T. and the M.G.s and others perform at the Fillmore in San Francisco. Although Jim's playing days started in San Francisco, he moved to Los Angles in 1969 and eventually to Chicago in 1971, but then moved back to Los Angles in 1973.
In Los Angles Jim worked with the "Preacher Ellis Band, "with the Great Sandy Nelson on Drums & had a regional 45 record played on the "XERB Wolfman Jack Show."
While in Los Angles, Jim saw an ad for a guitar player for a touring band ("Down Home Band") in Prescott, Arizona. He got the job & moved to Paulden, Arizona in 1977 and to Prescott, Arizona in 1980; working The Palace, The Bird Cage and other venues in the Prescott area.
Jim moved to Phoenix in 1979 and then to Flagstaff in 1982, performing at Charlie's, Monte Vista and Mary's Cafe. In 1986 he moved back to Phoenix where he joined "Drivin' Wheel" with Small Paul & played until 1992 when he joined Big Pete Pearson & The Blues Sevilles.
In 1999 Jim moved to San Diego where he worked with the Jim Glass Band and then moved back to Prescott in 2001 and reformed the Jim Glass Band.
In 2003, Jim finally moved to Peoria and was living there at the time of his induction into the Arizona Blues Hall of Fame in 2013.
Jim has also played with Tommy Dukes off and on since '78. He played guitar with HoneyBoy Dupree & the Smokehouse Players as well as with Jimmy Peyton's Midnite Blues. And has teamed up with Rena Haus as the Glass-Haus Band and Tina Bailey as the Bailey Glass Band.
Jim's, including vocalists/keyboardist Luann Lindemann, performed at the 2005 Mesa Blues Blast, sharing the stage with Michael Burks, Little Charlie and the Nightcats and Bettye Lavette.
Recordings:
While working at a bar on Catalina Island, Jim did an Album under the band name "Catalina," all cover tunes.
In Arizona, Jim has contributed to several compilation albums such as "Blue Saguaro (1993)" with Big Pete Pearson and the Blues Sevilles, "Desert Blues (1996)" as The Jim Glass Band and "Bluestown (1997)" as The Glass-Haus Band (with Rena Haus).
Jim also has released many recordings of his own material, including "Blues Fuse" (Jim Glass Band) in 2005, "Liquid Glass" (Jim Glass Blues Band, including Luann Lindemann) in 2008, "Imaginary Highway" as Jim Glass and Friends in 2008 and "Runnin with the Devil" (with Tina Bailey) in 2012 as the Bailey Glass Band.
Jim has also recorded with Tommy Dukes, Small Paul, Big Pete Pearson and Krimson Chord.
Awards:
In 1993, Jim won the Best Guitarist award, All Star Band Award (Phoenix New Times), while with the Big Pete Pearson Band.
In 2004 Jim and his band placed among the top three bands in the Arizona Blues Showdown competition.
In 2006, Jim was with the Tommy Dukes & the Soul Kings band, the band won second place in the Arizona Blues Society's Blues Contest and went to Memphis, Tennessee, to the International Blues Challenge (IBC) in 2007.
In 2010, Jim was with the band Krimson Chord, the band was a winner in the 2010 Arizona Blues Showdown and went to Memphis, Tennessee, to the IBC in 2011.
In 2013, Jim was inducted into the Arizona Blues Hall of Fame (ABHOF).


While in the Phoenix area, Jim has played at most of the popular music venues, including Warsaw Wally's (also as Chopper John's), Chuy's, Tony's New Yorker, Upstairs Pub, Anderson's Fifth Estate, Mesa Amphitheater, Mesa Arts Center, Dooley's, Mr. Lucky's, Chars has the Blues, The Rhythm Room, Pappadeaux's, Cooper'stown and others.
During his career, Jim has also shared the stage with music greats such as Muddy Waters, Dr. John, Edgar Winter, Buddy Guy, Dr. John, Sam Lay, & Taj Mahal.
Jim's induction into the ABHOF was on December 29, 2013 at the Rhythm Room in Phoenix, Arizona. At the time of his induction, Jim was in the process of remaking his band one more time, The Jim Glass Blues Band with Tim Finn from Cold Shott on guitar, Ron Tropiano on bass and Ed Sanchez on Drums