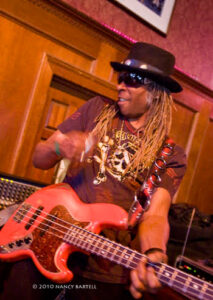 Jimmy Mack
Most famous musicians experience the excess that invariably comes with fame and fortune, and many eventually come to the realization that they must change their lifestyles to preserve their music, if not their very existence. Jimmy Mack is no exception.
In 1988 Jimmy realized he couldn't continue on the "Rock Star Lifestyle" path and survive, so he sold his white Rolls Royce, moved out of his high-priced digs and headed for the serene beauty of Sedona, Arizona where he still resides today. That doesn't mean however, that Jimmy has given up on his music – far from it – Jimmy is more prolific and his music more varied and sophisticated then ever.
The first steps of his musical journey began in Northern California in the middle 1960s, where as a teenager Jimmy McAfee (as he was then known) was hurled into the boiling cauldron of creativity that was the San Francisco psychedelic scene. Jimmy, already an accomplished bassist at the age of 17, began jamming with many of the musical legends of the time, but found himself drawn more to the essential Americana roots of music, and by the early 1970s had established himself as a major force in the Blues, Soul and R&B genres.
In the 1970's and early 80's Jimmy performed and recorded with many artists. Jimmy toured nationally with Sly & The Family Stone (1974-76) and for four years toured nationally and internationally with Edwin Starr & Starrchild (1978-1982). With Starrchild, Jimmy recorded several albums and singles all of which charted. One of the many highlights of Jimmy's early career was selling out Royal Albert Hall for two consecutive shows. In 1981 Jimmy performed with Kim Carnes for the rock video Draw of the Cards, one of the first videos ever broadcast on MTV.
In 1982-83 Jimmy toured Japan with Hiroshi Takabo as a piano/bass duet performing jazz and blues with an international flavor. The tour traveled throughout Japan and was notable for selling out every single performance.
Jimmy returned to the States in 1983 and formed the Rock & Roll band Killing Time. Killing Time headlined the inaugural "Earth Day Festival" at U.C. Davis and for a time was a fixture throughout Northern California. While playing with Killing Time, Jimmy was asked by Lydia Pense and Cold Blood to perform a special engagement with Michael Shrieve and Pete and Coke Escovedo of Santana. Jimmy and Coke hit it off musically, and beginning in 1984 they hit the studio for a number of recording sessions featuring Coke's original music. Jimmy and Coke continued to collaborate on recording and production, but the album was never completed due to Coke's untimely passing in 1986.
In 1984 Jimmy joined forces with Christian and Soul music great Jon Gibson. Jimmy toured and recorded with Jon for four years, and during that time recorded the albums "On The Run" featuring Joe Satriani and "Change of Heart" featuring M.C.Hammer. Both of these records produced #1 hits on the CCM Charts. It was during a lackluster performance on the support tour for "Change of Heart" that M.C. Hammer yelled out to the audience "I need some help from my ace, let's hear it for Jimmy Mack on bass!". Jimmy let loose with a monster bass solo and the crowd went wild. From that day on, this became part of the tour, and Jimmy McAfee has been known as "Jimmy Mack" ever since.
As mentioned at the opening of this biography, the constant touring, recording and partying that is a frequent component of a successful musician's life finally began to wear on Jimmy. After recording a rock video with The 50/50 Band in late1988, Jimmy realized he needed to take a break from the frenetic pace of the West Coast music scene and moved to Sedona, Arizona known for its majestic beauty and contemplative new-age residents. Jimmy spent the following two years meditating and writing music, while routinely performing with such respected musicians as Francine Reed (Lyle Lovett) and Motown Hall of Fame drummer Jerome Teasley (Junior Walker and the All Stars).
In 1991-92 Jimmy recorded the album "Walk The Line' with Mary Wilson of The Supremes, only the second solo album that Ms. Wilson recorded in the previous 30 years. "Walk The Line" was released in August 1992 and included the hit single "One Night With You".
Jimmy began recording and touring nationally and internationally with Richie Havens in 1993 and performed with Richie through 1996. One of the highlights of Jimmy's time with Richie was performing at the original site of Woodstock for the Bethel 25th Anniversary Woodstock Concert. In addition to Richie and Jimmy, other performers included Country Joe McDonald, Melanie, John Sebastian, Mountain, Blood, Sweat and Tears, Canned Heat, Iron Butterfly and Sha Na Na, as well as Fleetwood Mac, Judy Collins, the Chambers Brothers, Tom Paxton and Leon Russell. Jimmy appeared with Richie on ABCs "Live in Concert" broadcast and recorded the "Cuts To The Chase" album released in 1994 by Rhino records.
In 1996 Richie decided to tour once again as a solo act. Jimmy formed the rock band Thomas Thomas and toured regionally until 2000 when Jimmy was asked to create and arrange the score for a television pilot in pre-production. The show was not picked up by the networks, but Jimmy continued to work in broadcast media creating and performing soundtracks and voiceovers for commercials. During that time, Jimmy also performed regularly with Arizona Blues hall of Fame Artists Hank Tomlin and Tommy Dukes.
In 2003-04 Jimmy recorded the album "One Mans Trash" with Jeff Bell which included the hit single "I'm a Dog" and in 2005 toured nationally in support of the album.
Another highlight of his career was Jimmy's induction into The Arizona Blues Hall Of Fame in 2004. Jimmy was inducted for making a lasting and substantial contribution to the blues culture in the State of Arizona. At his induction, Jimmy was described as "a living blues legend".
From 2005 to 2008 Jimmy again took a hiatus from touring and performing, and except for an occasional guest appearance for his friends in the industry, focused his energies on songwriting and arranging his first his solo album. Jimmy also served as Production/Stage Manager for the internationally renown "Jazz on the Rocks Festival" with which he has been associated with for the past 11 years.
In 2009 Jimmy commuted between Sedona and Nashville, TN where he recorded an album with Jetsunma Ahkon Lham, (the first Western woman to be named a reincarnate Lama in Tibetan Buddhism), Wayne "Tex" Gabriel (John Lennon, Mick Jagger) and Louis Winfield. The record, named "Lineage of Queens" is in post production, scheduled for release late 2010. A three song EP "Trilogy" has recently been released.
In November of 2009 Jimmy once again stopped to take stock of his life and accomplishments. Jimmy had performed and recorded with some of the best musicians of our time, and appeared with countless others. He had acquired a vast technical knowledge of audio equipment and event production, tour and stage management, and he had a deep understanding of the music business as a whole. When he had been named to the "Arizona Blues Hall of Fame" for his accomplishments, Jimmy realized his knowledge and experience would be of significant value to less experienced artists. With that in mind, Jimmy created "Wicked Creek Productions" with two other partners. Jimmy has envisioned Wicked Creek Productions as a new concept for an artist management and development firm, one that is cognizant of and structured to reflect the current realities of the entertainment industry in the 21st Century.
Jimmy has a very full plate for 2010. He is collaborating on a major project that will be showcasing never-before released material recorded with a Rock And Roll Hall Of Fame inductee who is also featured in Rolling Stone Magazine's "100 Greatest Guitarists of All Time". Jimmy is also completing the tracks for his first solo album (featuring a number of famous guest artists) that he hopes will be released in early 2011. Jimmy will also be touring nationally with a headlining act beginning fall 2010. Finally, Jimmy will be heavily involved in guiding the careers of the talented artists that are associated with Wicked Creek Productions.