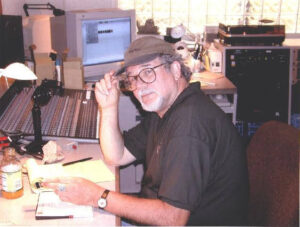 John Dixon
John was born in1946, in the island of Oahu in Hawaii and began his love of music around 1957 when he heard a Fats Domino record on KPHO radio. He started playing records for school dances at the Payne Training School on the ASC campus. After listening to the album, "James Brown Live at The Apollo," many, many times in 1964 he decided that he should buy a set of drums and join a band. When he and friend Bob Fritz saw "the hardest working man in showbizness," and The James Brown Revue in person at The Calderon Ballroom on Buckeye Road.it was time to forget Elvis and The Beatles! He was a drummer in Phoenix bands, The Sonics in 1965, and Stan Devereaux & The Trendsetters in 1967.
John Dixon has been a DJ on several Phoenix radio stations, off and on, since the 1960s. He hosted the famous "Johnny D. with R&B" radio show on many stations over the years, including KCAC, KDKB, KSTM, KUKQ, KEYX. He worked as promo boy for ARC Distributors, Phoenix, AZ (70-71), ABC/Dunhill/Impulse Records as promotion manager in LA, CA. (72-73), Capitol Records, Phoenix, AZ.Sales/Promotion (74-77), Capitol Records, LA, CA. Director of International A&R (78-79), Capitol Records, London England, Director European Marketing (78-80). Program Director K-15 am (80), Program Director KEYX fm (87), Production Manager Evening Star Productions (84-86, 88-90, 93-99), Manager Byrd's Audio, Kamuela, HI. (91-92), Ben Dover, Inc office boy/eBay seller (2000-Present)
An avid record collector, John is the unofficial Arizona Music Historian with a large collection of records, tapes, pictures, posters, radio charts and more, all with an Arizona musical connection. Over the last decade he has compiled, written liner notes, researched many CD's of Arizona singers and musicians from the 50's-70's. He represents the owners of most of the recorded tape masters from Arizona, including Floyd Ramsey, Loy Clingman, Hadley Murrell, Jim Musil, Jack Curtis, Frank Porter, Mike Lenaburg etc. He also represents those lucky, too few musicians, who own their masters including, Al Casey, Sanford Clark and Ernie Johnson of Eddie & Ernie. One important recent project that he was involved with gathered most of the masters from Phoenix's own answer to Sam & Dave, Eddie & Ernie on CD, for ACE Records of England. Many English collectors and writers consider Eddie & Ernie the best soul duo ever. This CD has sold over 4,000 copies and received rave reviews for the quality of soul music in this package.
Over the years he has helped with the release of many CD's with an Arizona Musical connection including Waylon Jennings, Marty Robbins, Dyke and The Blazers, Wayne Newton, Duane Eddy, Superfine Dandelion, and many others. Currently he sells records on eBay and at Record Shows around the country, where he can also look for even more Arizona Records missing from his collection. As a founding member of The Arizona Music Heritage Foundation, Inc. he has helped with audio and visual materials and advice for displays by the Arizona Historical Society, Tempe Historical Society and Phoenix Library and KAET. He is a sometime guest host on Bob Corritore's, "Those Lowdown Blues" radio show on KJZZ, where he can share those wonderful desert discs