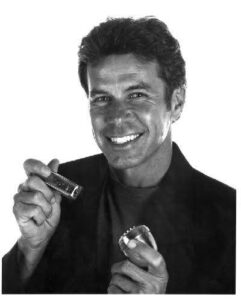 Johnny Tanner
Johnny Tanner's business card lists him as President of Tanner Masonry, Inc., the small contracting firm he owns and runs out of his home in Tempe. But this doesn't begin to define him nor does it hint at his true passion in life: his 30-year love affair with the harmonica.
One of three children from a native southern Arizona family, John Cornelius Tanner was born in 1954 in Argentina. His father, a rancher by trade, had relocated there to take a job. "I actually spoke Spanish before I ever spoke English," Johnny recalls. After spending his first nine years in South America, the family returned north to California and finally back to Arizona. Johnny was initially intrigued by the sound of the harmonica on 1960s Bob Dylan and Creedence Clearwater Revival records, leading him down a wellworn path to the music of John Mayall, Paul Butterfield, Charlie Musselwhite and then to the Chicago sounds of Little Walter and Sonny Boy Williamson.
The budding blues aficionado then began a collection that's still growing in the 21st century. I f blues records were hard to find in 1960s Phoenix, harmonica mentors were virtually nonexistent. Johnny's first professional instruction came from Jerry Portnoy, who performed with the late great Muddy Waters when he visited the Valley in 1974. Johnny says, "He [Jerry] gave me a practice cassette tape and showed me all the fundamentals of how to tongue block and how to play the harmonica correctly. I had to break all the bad habits I'd had."
The 1970s took Johnny on an odyssey that included Seattle, Alaska, California, Europe, and of course, Chicago. Living in Loop hotels and working as a bricklayer by day, he toured Chicago's clubs by night, where he was able to hear and meet many legendary first generation bluesmen, including Big Walter Horton, Lee Jackson, Freddie King and Hound Dog Taylor. It was in Chicago that Johnny Tanner, blues fan, would begin to emerge as Johnny Tanner, blues musician. By the early 1980s, he had relocated to Seattle, where his band, Blue Lights, performed at venues around the Pacific Northwest. After spending some time in California, he returned to Chicago in 1986, this time with considerably more blues credentials under his belt. It was during this period that Johnny enjoyed the honor of playing with respected blues artists such as Sunnyland Slim and Otis "Smokey" Smothers and opening for Muddy Waters and Willie Dixon.
In 1991, Johnny departed the frigid shores of Lake Michigan to return to the parched shores of the Salt River. Since then, he keeps up a sometimes frantic schedule running Tanner Masonry, but still manages to find time for the music he loves. In addition to fronting his own band, Johnny Tanner and the Tonemasters, he 's also working on a self-produced CD, based on recordings made in California about three years ago with the Hollywood Fats Blues Band (Larry Taylor on bass, Richard Innis on drums, Junior Watson on guitar, and Fred Kaplan on piano). With the addition of some recently recorded tracks, the CD is projected for release in 2001. Johnny also travels regularly to Europe, where Holland has become his main destination, as well as frequent trips to California, where he can sometimes be found hanging with his good friend and fellow harmonica player Kim Wilson, founder of The Fabulous Thunderbirds. Throughout the years, Johnny had the presence of mind to document his adventures, and he has accumulated a vast storehouse of memorabilia. The music room/band room in his home hosts a huge gallery of concert posters and showbills, all meticulously preserved. Immortalized on every available surface are now-historic performances by a diverse array of artists ranging from Luther Allison to Jimmy Witherspoon. Mixed in are promos for European and Scandinavian blues festivals with only the American names recognizable to the English-speaking reader. Down the hall, there's the back bedroom with its collection of vintage microphones, all in working order with, along with a massive library of 78rpm records, all alphabetized by artist. A project is also underway to restore some of his classic amplifiers.
But above it all there's his playing, exclusively on Hohner harps. "Tone is everything," is how Johnny summarizes his philosophy. No flashy stage moves or gimmickry here. Johnny remembers his greatest influence. "I got to hang out with Big Walter [Horton] 40 or 50 times in Chicago. To hear him playing, just standing there at the bus stop and hear his true acoustic sound or watch him in clubs when there were three or four people there on a Tuesday night, you see how magical his tone was. That was probably my biggest influence to have fallen under his spell, his charisma and his mystique."
Next time you want a shot of real-deal Chicago blues, go catch Johnny Tanner and the Tonemasters. You might be able to hear that magical tone and fall under the spell yourself.