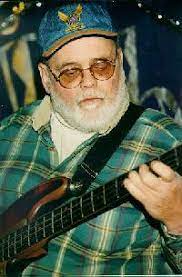 John "Pops" McFarlane
John "Pops" McFarlane
Bass
Born in Peoria, Illinois, on July 14,1938, his early influences were boogie woogie, jazz and blues. John's first professional gig in the late 50's was with Wild Child Gipson and the Violaters. While playing with Wild Child, Pops played his first paid record session at Chess Studios in Chicago, with Ralph Bass as A&R man.
By the mid sixties, after a brief stint with the "Rockin R's," he formed with guitarist Steve Degenford, a very successful R&B/Blues Band in Illinois called the "Soul Mates."
During the late sixties, Pops was instrumental in forming another popular Illinois band called "The Jam Factory."
In the early 70's, Pops played with several blues influenced bands, and in the mid seventies was an original member of the " Havana Ducks," a very popular Champagne, Illinois band.
In 1980, Pops became Luther Allison's bass player, touring extensively in Western Europe, Canada, and the Midwest and East Coast of the United States. While with Luther, he played the North Sea Jazz Festival, Nancy France Jazz Festival, Montreal Festival of Arts, Summer Fest and Chicago Fest, and many others. Other bands at these shows included such artists as Muddy Waters, BB King, Albert King, and Willie Dixon.
At the Montreal Festival for the Arts, Pops played bass for Buddy Guy & Junior Wells and also Big Mama Thorton. At other times, Pops played on stage with Albert Collins, Robert Jr. Lockwood, Willie Mabon, Eddie Boyd, Champion Jack Dupre and many others.
By the Mid 80's, Pops was in Colorado playing with a group of young musicians called "The Persuaders." With Pops' blues influence and the strength and talent of Rick Berthoud on Lead Guitar, the band was very successful and became a very popular Los Angeles Blues Band
In 1989, Pops moved to Arizona and found the perfect band for his style of blues, the "Hoodoo Kings." Over the years the band has won numerous awards such as "New Times" BEST BLUES BAND, as well as the Best Blues Band award from the Arizona Republic.
Also played 2 years with the Rhythm Room House Band with Chico Chism, Mario Moreno, Johnnie Rapp, and Mule, backing up many blues artists such as Lazy Lester, Mo Jo Buford, and others.
Pops can be heard on recordings in with:
Luther Allison
The Persuaders
Hoodoo Kings
Chico Chism
Henry Gray
Pops passed away in May of 2014.