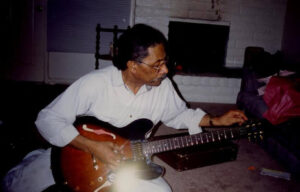 King Karl was born on Dec. 31, 1931 in Grand Coteau, LA. He moved to Beaumont, TX in 1945 and returned to Louisiana 1955.
He began his career as a vocalist as a teenager. He was a featured singer with Lloyd Price for awhile. He performed with Black Creole, Howard Brouss and the Musical Kings which also featured Guitar Gable. They recorded for Excello records at J.D. Miller's studio in Crowley, LA.. This group is considered the founders of a genre of music known as" Swamp Pop" music featuring ballads, Rock & Roll and Blues.
Some of King Karl's classic songs include: "Irene", "Cool, Calm, Collected", "Life Problem", "Walkin' in the Park", and the classic song: "This Should Go On Forever", which was a big hit for Rod Bernard in the 1960's.
He has released albums on many labels including "La Louisianne" and "Tamm".
He performed a few "comeback" shows recently including the "Ponderosa Stomp" and the "Estafette" festival.
He released a song on the The Phoenix Blues Society AZ compilation CD "Desert Blues" and he has a song on "Allstar Blues Sessions" produced by Bob Corritore and released in 1999 on the HMG/Hightone label.
He moved to Arizona in 1992. He passed away on Dec. 7, 2005.