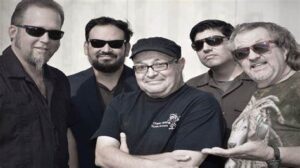 Larry Diehl
Native Tucsonan Larry Diehl has played bass nearly all his life. As blues bands appeared on the local scene with the blues resurgence of the 80's, he was often called upon to lay down the groove. Larry was a vital member of early blues bands such as Statesboro Blues Band and Boogieman Blues Band with ABHOF member Tom Walker.
He's backed ABHOF member Sam Taylor, and continues to play with Sam on his frequent visits to the southwest from his home in NY. Prior to Bobby Taylor's death, Larry played in Bobby's R&B band The Real Deal, named in Larry's honor.
Diehl also played with many blues fusion groups including Barbara Bird and Da Fellas, and has been a constant stalwart figure of the southern Arizona club scene
Larry played electric and upright bass in Tony and the Torpedoes, backing him in the studio, in clubs, and festival performances.
He has also been working for several years with the outstanding guitarist Bryan Dean and their bands Three Legged Dog, Some People's Kids, and The Four Guys. They have a studio project of original material in the works.
Larry is a committed and versatile full time musician who many local legendary bandleaders rely on to supply that all-important low-end drive. He's a proud single father of a teenage son, Montana, but still finds time to help with community benefits and his church's band.