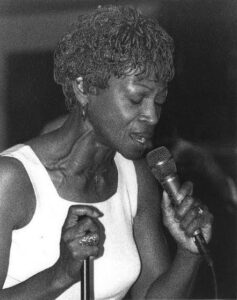 Margo Reed
Vocalist Margo Reed, a member of the amazing Reed family (Francine, Laverne, Bucko, and Mike), has been singing her heart out in Phoenix since 1973. She was the first of the Reed family to move to Arizona from their home in Chicago, and quickly established herself as one of the finest singers in the Valley.
Her first gigs in Phoenix were at the legendary nightclub The Century Sky Room. That led to a long run at the premiere Phoenix jazz club, the Boojum Tree.
She has since performed at many of the major venues in San Diego, Seattle, Las Vegas, Lake Tahoe, Atlanta, Detroit, Oregon and Denver. In addition, Reed had an extended gig in Telluride from 1990 to 1993.
Always backed by the cream of the crop of Phoenix Jazz musicians, Reed usually performs with long time music partner Armand Boatman.
Known mostly for her work as a jazz vocalist, Margo brings the spirits of Billie Holiday and Bessie Smith onto the stage with every performance, and has brought joy to Phoenix listeners for 30 years.
In 2000 the readers and staff of Arizona Jazz Magazine named her Female Vocalist of the Year.
Margo Reed passed away on April 15, 2015.