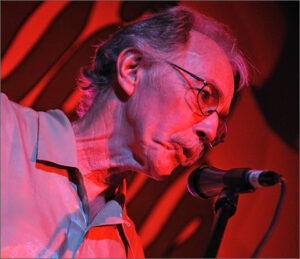 Thirty-six years ago KXCI went on the air with a blues show. It's The Blues Review and Marty Kool has been in the chair now for over 30 years.
Marty's live performances & in-depth interviews have included Arizona musicians Tony Uribe, Stefan George, Steve Grams, Danny Krieger, Sam Taylor, Mike Blommer, Big Pete Pearson, Bob Corritore, Hans Olson, Bill Tarsha, Arthur Migliazza, George Howard, Dave Trippy & many more.
National artists that have played live and/or been interviewed on his show include John Mayall, R.L. Burnside, Nappy Brown, King Ernest, Steve James, Paul Geremia, Homesick James, Super Chikan, The Paladins, Carey Bell, Andrew "Jr. Boy" Jones, Kenny Neal, Maria Muldaur, Theodis Ealey, James Armstrong, Janiva Magness, Phillip Walker, Sonny Rhodes, Little George Sueref, Bill Lupkin Band, Chico Chism & more.
Marty shows how the blues relates to our daily lives & offers a lot of history, session info and stories. He was a founding member of the Tucson Blues Society, and the Southern Arizona Blues Heritage Foundation. He also edited the Tucson Blues Society's Blues Calendar for three years.