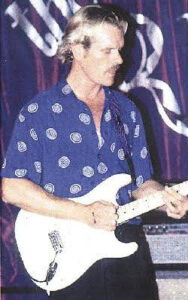 Matt Roe
Matthew Roe was born in Tempe, Arizona on January 7, 1963. He started playing guitar and drums in 1973. His first major inspirations came from The Beatles, Jimi Hendrix, Cream, Hans Olson, Jeff beck, The Rolling Stones, Mike Bloomfield and the Midnite Blues Band. Matt's first performance was in 1979 at Dan T's in Tempe. His father booked the gig for him! His first band was called The Matthew Roe Band.
Over the years, Matt has been a very sought after lead guitar player. He has performed with many local Blues bands including: Big Pete Pearson, Chico Chism, Blues Connection, Mojomatics, Blue Dynamos, Cold Shott, Jay Busch, Dave Trippy, Simon Crown, Walking Cane Mark.
He has also performed with nationally known acts including: Otis Rush, Robert Jr. Lockwood, Nappy Brown and Lowell Fulsom. He has also fronts his own band, The Matt Roe Group.
His major influences are: Otis Rush, BB., Freddy and Albert King, John Coltrane, Jeff Beck, Peter green, Buddy Guy, Hubert Sumlin, Bob Marley, Miles Davis, Jimi Hendrix and Magic Sam. Matt is a major fixture on the Phoenix Blues scene.
Asked about his other interests, he says "I like to swim!"