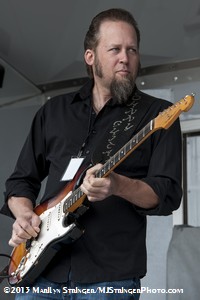 Mike "Johnny Guitar" Blommer
Guitarist/vocalist/songwriter Mike (Johnny Guitar) Blommer shares lead vocals and songwriting in Bad News Blues Band. His dad, Mike Blommer Sr., is a blues and jazz trumpeter who often guests with the band, and whose knowledge about the blues masters was a major influence on Mike's appetite for blues during childhood. He also cites his parents' vast record collection, especially those of Charlie Parker and Louis Armstrong, for leading to his preference for multiple horns in his band.
Blommer started playing drums in fourth grade and took up the guitar a few years later. Since then, he's never looked back from the blues, and encourages every youngster to learn and share something about the genre and to play an instrument.
In performance, he re-popularized show-stopping antics in Arizona such as walking along bar tops during songs and leaving the building to play on the street. Tucsonans are particularly proud of band members' 1996 midnight arrest for crossing Speedway to play on the meridian while the notes wailed out of amps inside the club.
Mike received the 1999, 2000, 2001, 2003 TAMMIES Award for Electric Guitarist of the Year. In 2000 and 2002 he was named Male Vocalist of the Year.
Mike Blommer and Alex Flores founded the Bad News Blues Band (first known as Full Moon Blues Band) in 1992, and have amassed a great number of fans, national and international appearances and awards since then, headlining and sharing festival and club stages with many blues legends.
The band tours several times a year, appearing at Buddy Guy's Legends, Zoo Bar, Stevie Ray's, State Theater and other major blues venues in the U.S., and performed at the 2000 Handy's in Memphis. Festival appearances include, among others, The Waterfront, Mexico City International Music Festival, W.C. Handy Blues Festival, Tucson Blues Festival, Phoenix Blues Blast and many others in the U.S. and Canada. In 2000 they toured with Long John Hunter, and shared the bill with Hunter, The Holmes Brothers and Lil' Brian & the Zydeco Travelers in a series of festivals throughout Turkey and Russia.
Together Mike and Alex also formed Bad News Blues Music, under which they publish and release their CDs on ARV Records. CDs include Cruisin' For a Bluesin', Bad news indeed!!! (both reissued in 2002), Badnewzapalooza, Best of Bad News, Knockout! and several singles. Knockout! received substantial national airplay, getting listed in Living Blues Top 25 in the summer of 2001. Blommer's One More and I Gotta Go (first released on ARV's 1997 Bad news indeed!!!) was the most frequently downloaded blues song on the Internet in 2000, 2001 and 2002. BNBB is currently working on their next studio release.
The horn-driven high-energy band regularly garners front-page newspaper coverage when on tour, and is by most accounts the most popular ambassadors of Arizona blues. In addition to individual players' awards, the band is frequently voted TAMMIES Working Blues Band of the Year, Blues Band of the Year (including 2003) and Band of the Year. Bad News Blues Band has twice won the Arizona Blues Showdown and represented the state at the International Blues Talent Competition (1997, 2002), and is the first blues band to be placed on the Washington D.C.-based Kennedy Center for the Performing Arts' International Artist Roster.