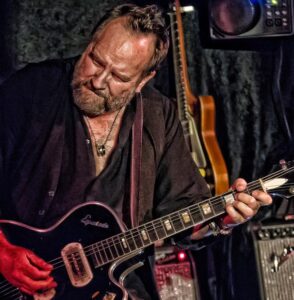 Mike Eldred started playing guitar at 14 when his folks bought him a guitar. Mike says he couldn't really play it, he just made noise until a guy tuned it up and taught him "Oh Carol" by Chuck Berry.
There was a family that lived across the street from Mike when he was a kid and they would have him listen to Coltrane, Zappa, T-Bone, everything… very eclectic. They took him to his first blues concert which was Lightnin' Hopkins at some club. Mike was about 16 years old then and says it blew his mind.
He eventually started a blues band with Mike Magrann, a singer for the punk band CH3. The band recorded a demo tape to get club bookings, and it made its way into Brian Setzer's hands. The Stray Cats were breaking up, and Lee Rocker wanted to start a blues band. Brian gave Lee Mike's tape, and they put out two records on the Black Top label. That experience helped Mike find a foundation and eventually he left to start his own band.
The Mike Eldred Trio has put out three albums, and is working on their fourth. Their last album "Baptist Town," tells of the struggles throughout the South, and focuses on a tiny community outside Greenwood, MS. called Baptist Town. It is where Robert Johnson lived and died, and continues to be a source of inspiration for Mike today. The album was voted one of the Top Ten releases of 2016 by the Los Angeles Times.