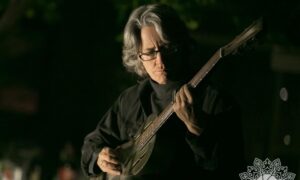 Tucson native Mitzi Cowell has lately been called one of Tucson's hardest working musicians. Whether or not she actually agrees with that, she does stay busy. Mitzi first studied fingerpicking and slide with local master Ken Tucker, then quickly moved on to playing electric guitar in a band, gradually fusing the two into a funky, swampy style on both electric and acoustic.
A stint in New Orleans found her onstage with various Bourbon Street bands and the Jay Monque'D Blues Band. In Tucson, she has been the bandleader of the Visionary Blues Band, Slant 6, The Valiants and the Mitzi Cowell Band. Other projects have included Bobby Taylor and the Real Deal, the Bunko Squad, The Carnivaleros, and stints with the Sam Taylor Band.
Well known in Tucson's blues and roots music scene, Mitzi is a frequently called session player, plays bass at the Gaslight Theatre, and performs solo or with her band around Tucson. Her current interests include recording and producing, lending her ears and skills to such projects as Tammy West and the Culprits and The Sapiens Music Collaborative, and of course her own work.
One of Mitzi's proudest moments was the production of the song Shine From The Valley (viewable on YouTube), in response to the tragedy of January 8, 2011. Mitzi has several CDs of original music and blues, all available on CDBaby.com. She is grateful to live and work in the vibrant Tucson music scene and blues community, which is so warm and supportive of its musicians. Thanks especially to the music lovers who keep coming out to listen and dance.