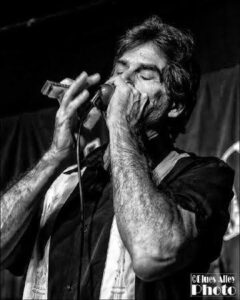 As a youth, Ray saw his Uncle Don play harmonica at family gatherings. He bought his first harmonica as a teenager for $5.00 at Lyon and Healy's Music Store in Chicago. Listening to Blues records through high school and college gave him love for the Blues.
Playing harmonica on stage with Pinetop Perkins and Jimmy Rogers was Ray DeSylvester's first live performance. They invited him up at Lily's on the North side of Chicago. This experience along with seeing Muddy Waters and Corky Siegel perform live inspired Ray to pursue the craft.
In 1982 Ray moved to Arizona to start his career in teaching. He was thrilled to discover a thriving Blues scene in Phoenix. Great harmonica players: Bill Tarsha, Hans Olson, Bob Corritore, and Dave Trippy encouraged him.
Ray has been fortunate to play with several Phoenix bands in festivals and events across Arizona: Payson June Bug Fest, Monterey Blues Fest, Blues in the Schools, Walkin' on Main, PBS Blues Blast, North Mountain Blues and Brews, and the Danny Rhodes Blues Summit.
In 1998 Ray won Top Traditional Blues Solo Act in the PBS AZ Blues Showdown. He was a solo finalist in 1992 and 1993. In 2015 he represented NAZBA as a solo performer at the IBC in Memphis.
He is known for solo renditions of the Star Spangled Banner at festivals and weaving throughout the audience with his harmonica. By playing traditional Chicago Blues, Ray DeSylvester is committed to keeping the Blues alive..