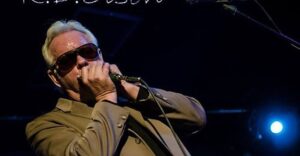 Meet R.D.Olson, born and raised on a 160 acre farm in Zumbrota Minnesota, one of seven children born to Harris and Joan Olson. As a young boy working in the fields and at night in the barn he would hear the sounds of Nashville; Hank Williams, Johnny Cash and Elvis It was the style of Elvis that led R.D. to the Blues. Muddy Waters whom he would later meet and jam with, also B.B.King, Luther Allison, Buddy Reed, Chico Chism, Hans Olson to name a few. Singer, songwriter, band leader R.D.Olson is the REAL DEAL, dubbed that not by himself, but by those that that he's touched. R.D. Olson Blues band is just that, the REAL DEAL! R. D. and his band play blues with respect to the past and a good kick in the ass into the new millennium.

You can't help but feel a live performance resonate in your soul. R.D.'s 30 plus years of blues experience gained by stints with Luther Allison, Chico Chism and Buddy Reed. All blues stalwarts. R.D.'s charisma and showmanship absolutely command the audience's attention Dynamics so vast they suck the air out of the room.
Make no mistake R.D. and his band are not just 'players' of the blues…they are top notch national level caliber performers and really 'bring it' to the stage.
Close your eyes and let the music seep into your soul. His play list is a nice mix of 'dem muddy blues' as R.D. would say, and contemporary blues!
Despite the genre of music you like, make sure to catch the R. D. Olson Blues Band. It's a sure can't miss evening of music.