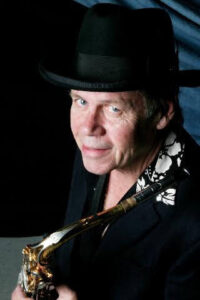 By the time he was thirteen, he was playing the saxophone in a few local bands. At fifteen he had his own band. In 1956 he played with Jimmy Clanton, Johnny Rivers and many other musicians.
In the late 1950's he met Mac Rebennack (AKA Dr. John) and did lots of studio work in New Orleans.
In the 1960's he wound up in Hollywood, CA by the late 1960's,he was in movies and television shows such as The Vendors by Bobby Darin, The Lucy Show, The Monkeys, Paladin and others.
He became a studio sax player and recorded with Steven Stills, Dr. John, Humble Pie, and all the leading record companies.
He did three European tours with Steven Stills, Dr. John, and Humble Pie.
He has played with a lot of famous musicians, such as Elvis Presley, Sly Stone, Janis Joplin, Stevie Wonder, Eric Clapton, George Clinton, Duane Allman, Lou Rawls and many more.
He completed his own original song record album in 1975 and returned to Louisiana.
He moved to Tucson in 1986. Since he has been here he's played with Johnny Greenwood, George Howard, The Rowdies, The Cobras, Kings of Pleasure, Mitzi and the Valiants and many more.