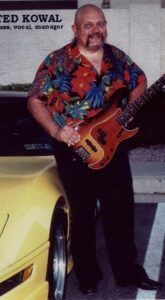 Ted Kowal studied Music at both Mesa Community College and Arizona State University. He played a variety of instruments, including: saxophone, string bass, bass clarinet, and electric bass as a member of the ASU Marching Band, ASU Symphony and the ASU Jazz Ensemble.
Ted taught bass at Scottsdale Community College in Arizona.
His early performance credits include Sonny & Cher, Chuck Berry, Doug Kershaw, Tanya and LaCosta Tucker, Fats Domino and Terry Stafford.
In the 1980's he performed with "The Chistones" with the legendary Chicago Blues artist Chico Chism (former drummer with Howlin' Wolf).
He also played with his own 4-piece blues band, Boogie Chillun.
Ted recorded with rock guitarists George Lynch (Dokken, Lynch Mob) as well as England's rock guitar legend Albert Lee and Germany's Mike Warner.
Ted has used his unique showmanship abilities to star in various TV commercials and made-for-TV films.
As the founding member and manager of COLD SHOTT and THE HURRICANE HORNS since 1990, Ted held down the bottom of the groove with his bass playing. It was a sad day for us all when Ted passed away on his way home from playing a gig at Sugar Daddy's on Friday, July 5th, 2002.