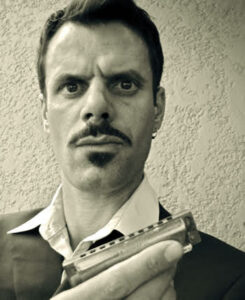 Englishman Tom Walbank was born in the town of Wells,1969, in the county of Somerset. Raised in Totnes, Devon, he discovered blues in his teens, beginning harmonica (which remains to this day his main instrument).
He studied the harp style of main influence Sonny Terry and played constantly through his twenties after moving to Edinburgh, Scotland. Here he joined blues trio 32-20 and then, with guitarist Steve O' Connor, the acoustic blues duo Hot Tamales.
After meeting and marrying his wife, Leia Maahs, he moved to California in 1997. He also started playing guitar around this time in the style of John Lee Hooker, Muddy Waters, Son House and Big Joe Williams.
Moving to Tucson in 2000 he started playing constantly in the local bars and clubs, establishing himself as a force on the local music scene, either solo or with guitarist Doug Smith or with Dimitri Manos and Mike Bagesse, aka the Ambassadors.
He has recorded ten albums and appeared on twenty others, usually adding harmonica. In 2009 he scored the movie Good Boy. He has won best blues band in Tucson five times, best blues band in Arizona once and (with pianist Arthur Migliazza) best blues duo in Tucson once, representing Tucson in Memphis in the International Blues Challenge both times.
.